12/2012

Sn 83 built in 1994 was with Cathay Pacific Airways previously.
12/2012

First MD-90 in new colourscheme. MD-90 has 1450mm longer fuselage against older MD80 to counterweight heavier engines.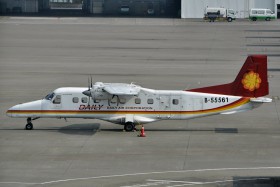 12/2012

Exactly twenty years old aircraft is awaiting next passengers on scheduled flight to 99NM distant Chi Mei Island.
12/2012

Sn 53167/2056 built in May 1993 with promotion sticker of Taiwanese motorbike manufacturer.
4 records